It will be the first time I am joining this Friday meme, which I've longed wanted. Finally I was able to finish my post.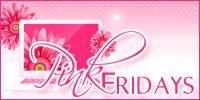 Sharing my pink.
This is the giveaway I made for my niece baptismal some years back. Actually she is now 9 years old. I am fond of making crafts and usually I did the giveaways for my nieces and nephews birthdays and baptisms. The materials, I purchased them from Divisoria, but sometimes if I am too busy to go to Manila, I just buy them locally.
If you also wanted to join this meme, click
here
to link-up.